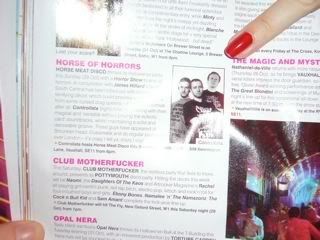 As some of you will already know, aside from my sporadic blog writing, I do occasionally play a few records as part of the DJ trio, Controllata, with my good friends Scottie Johnson and Jimmy P. We have been fortunate enough to DJ at loads of great places all over London and beyond, but our absolute favourite party to play ever, ever, ever, is the now legendary, Horse Meat Disco.
Horse Meat started life in the basement of a Soho pub in 2003 and now takes place every single Sunday of the year in deepest, darkest Vauxhall in a blacked out pub-come-club. Whilst being most definitely a gay party, it's not overly cruisey, and is straight friendly without diluting its homosexual identity. And as the name suggests, it's also very much a disco club with residents Jim Stanton, James Hillard, Severino and Luke Moore a consistent musical standard, assisted by a multitude of stella guests from Danielle Badelli to Derrick Carter to Maruice Fulton to I-F to Lady Miss Kier to Daniel Wang to just about any DJ of a disco persuasion worth their salt. It's a music policy that has become more and more common across London Town, but Horse Meat really blazed a trail in re-establishing disco on the dance floors of the city.
As well as regularly booking the likes of Rug'n'Tug, Prins Thomas, the Idjuts and various Italian Cosmic legends, the Horse Meat crew have been kind enough to ask little ol' us to DJ for them twice - and they have both been amazing experiences. A really responsive dance floor that love not just the disco anthems we all know and love but also obscure music from the dark and freakier corners of disco's history. A proper music crowd that really want to party.
Highlights included… getting our picture in the gay press… turning the music off to let The Ones do a PA… spontaneous vogue offs on the dance floor… arms being held aloft through the smoke to the strains of Disco Dream and the Androids 'Disco Dream'… a little drama as the floor plunged into (semi) darkness to the opening moments of Frances Joli 'Come to Me', then the cheers as the drums and lazer kicked in… the lazer generally… getting told off for caning the lazer… Jimmy and Scottie owning the stage… Joan Dairy Queen getting all militant and demanded some Amanda Lear… appeasing her with Queen Samantha… the dance floor rocking at 3am on a Monday morning…
These are a few of the records I played down there: C.J.& Co 'Devil's Gun' // Sinnamon 'Thanks to You' // Strafe 'Set of Off' // Martin Brew 'Galatico' (Greg Wilson mix) // Luv You Madly Orchestra ' Moon Maiden' // Vaughan Mason and Butch Dayo 'You Can Do It' (dub) // B.W.H. 'Livin' Up' // Chilly 'For Your Love' // Tempest Trio 'Do You Like the Way That it Feels' // Daddy Dewdrop 'Nanu, Nanu' // Slick 'Sexy Cream' // R.V. Cock 'Get A Head' // Boystown Gang ' Can't Take my Eyes off of You' (Reprise) // Sylvester 'Band of Gold' (dub) // Kryptonite 'Baby I Don't Know' // Class Action 'Weekend' // Geraldine Hunt 'Can't Fake the Feeling' // Carol Jiani 'Hit N Run Lover' // Kat Mandu 'The Break' // In Flangranti 'It's all Rubbish' // Tantra 'Hills of Katmandu' (P.Cowley mix) // Sylvester 'I Need You' // Kano 'It's a War' (Santiago edit) // Patrick Cowley 'Menergy' // Machine 'There but for the Grace of God' // Evelyn 'Champagne' King 'Shame' // Fever 'Beat of the Night' // Boystown Gang 'Disco Kicks' // Jackie Moore 'This Time Baby' //Disco Dream and the Androids 'Disco Dream' // Debbie Jacobs 'High on Your Love' // France Joli 'Come to Me' // Kasso 'I Love the Piano' // First Choice 'Doctor Love' (Pettibone Dub) // Lime 'On the Grid' (M&M remix) // Shirley Lites 'Melt Down' // Queen Samantha 'Take a Chance'
Here are some pics of our time down there, courtesy of Nick Ensing (check out his work at:
www.flickr.com/photos/nickensing1138/sets/
)
Horse Meat Disco takes place every Sunday 8pm-3am, at The Eagle, 349 Kennington Lane, Vauxhall. It's guaranteed to be rocking and the boys have always got loads of ace stuff lined up - you can find out more here:
www.myspace.com/horsemeatdiscolondon